Artists operate through life, work, love, etc. in their own distinctive way. We often find inspiration in the strangest people, places and things at the most unusual times of day. There even are studies used to support this theory, and how artists are "right-side dominant" brain thinkers. To put it briefly, the brain is split into two halves : "left" (analytical, mathematical, organizational), and "right" (emotional, creative, intuitive). Left brain thinkers process ideas in a step-by-step way, where right brain thinkers are visual learners, using curiosity and creativity to navigate through the world. In other words, most artists are "right side of the brain" people. Get it?
I dramatically explained all of this to tell you that I am one of those artists. I don't get my bursts of productivity and inspiration when I clock in at 9am, which means they also don't turn off at a 5pm clock out time. I oftentimes find myself inspired at 3am, when I can't sleep. In these hours I read, listen to music, watch TV, scroll social media, and just let my mind wander. In these moments I plot makeup themes, plan techniques, strategize branding, contact photographers for photo shoot concepts, etc. These ideas then continue, after my nights of 4 hours of sleep or less, throughout the day as I get energy bursts and waves of productivity.
A work day for me consists of clients, emails, contracts, calendars and payments- all from a mobile office. I travel 100% of the time, and when I am stationary, that "right-brain thinking takes my mind all over the place. I am at my best, however, when I have a makeup brush in my hand. This is where I shine- where the creativity takes over and I am lost in artistic expression. Obviously, in those 3am sessions, I strategize on how to create those makeup-brush-in-hand moments, thus fulfilling my passion and purpose all at once.
Are you with me? Yes? Cool (you totally get me) No? (sorry, LOL I'm weird, but I will totally slay your makeup of you let me)
Anywho.
Cut to a few weeks ago, when I was up, restless, feeling uninspired and bored, when I had a boost of energy. I decided to play my favorite album of 2017: "A Seat at the Table." This album, written and produced by Solange (if you have been alive the past 10 years, or read my last blog post, you should know who she is) aka singer/writer/producer/poet/performance artist/Beyonce's sister. I often turn to this album when I want to feel inspired. Described as "A Celebration of Black Life, Love and Culture," a seat at the table takes a gritty, poetic, melodic, hip-hop/dance take on what it means to be black in America today, from the eyes of a black woman. So you see why I listen to this album to become inspired, and if you don't YOU NEED TO LISTEN!
As a visual artist, Solange set the tone for " A Seat at the Table," by using themes of black love, sisterhood and strength in imagery. Her music videos display iconic black hairstyles and a rainbow of skin tones, all in breathtaking urban and natural settings. I'll also give a nod to my girl Beyonce (mother to all) for her use of similar themes in her groundbreaking album, "Lemonade." The lyrics, tone and visuals from both albums inspired me as a fan and an artist, and I finally, at 3 am, decided to take action and turn inspiration into a passion project.
So, I dove into Instagram and started searching through hashtags such as "black girl magic, " "Solange," and "Lemonade," for visual representations of everything I was feeling. Then I turned to hashtags such as "Milwaukee model," and "Milwaukee photographer," to find people who could bring my passion project to life. I stumbled across Racine photographer Chris Adam Taylor, and instantly fell in love with his work. His aesthetic set a mood of a regal nature, with rich sepia tones, sunsets, crowns of natural hair and the overall inexplicable beauty of black women. Before I knew it, I was sending Chris a message, asking if he would be interested in partnering with me, and my hairstylist friend Andrea "Drea" Carter for a Solange-inspired photo shoot. After sending the message, I went to bed because it was, (say it with me) 3 am. I woke up to his "yes" reply and was through the roof. I immediately got to planning.
Chris kindly assembled a team of models, as Drea and I grabbed inspirational images. Once our team, location and theme were set in stone, I assembled a call sheet to keep us all organized. The first line of the call sheet was a quote from Solange herself,
"Self-love is really a foundation for everything, and however you practice or express that is so, so important."
It followed with a paragraph, written by me, which went like this (prepare for the "right brain" extra-ness that is to follow):
"This photo shoot is black girl magic. Its "braids too tight," "don't touch my hair," melanin motivation, armor, black girl joy. Its "slap yo mama good," "cranes in the sky" art imitating life. It's "my giiiiiirrrlllfriends (Angie Stone voice)," sisterhood, soul food, waiting to exhale, Lemonade-type intimacy. We're talking COVER OF ESSENCE MAGAZINE beauty."
Yes, I'm dramatic. Yes, I did entirely too much and that description was long, and this blog post is even longer But I really want to let you inside of my head, so you can understand where I'm coming from!
Whew! Ok. So, fast-forward to the day of the shoot. Everyone is excited, per my email of course, and ready to work! Drea and I whipped out 2-3 hair ad makeup looks for 5 models while Chris set up his photography equipment for inside and outside looks. Our hosts, the owner and lead makeup artist at "Beautifully Bold, Inc.," were kind to get some behind the scenes photos for us, as well as provide their bluetooth speaker for us to play our inspiration music. Guess what we chose? :)
The room was filled with laughter, as we shared stories and instagram/facebook info, sang along, and even planned future projects. Our lovely models, Deysha, Shalby, Brianna, Neisha, and Vanessa snapped selfies, as I donned them in body oil and gold glitter. Drea whipped out braids and bobby pins in record time, and Chris set his trademark mood with strategic in-studio lighting. I already knew this project was going to be everything I asked for, and more.
8 hours later, we were tired and full, (I ordered pizza) but overjoyed at what we created. Everyone posted sneak peaks and BTS (behind the scenes) photos and videos of our massive shoot.
And now, we have the final edited photos! (Thank you Chris!!!) Check them out here (more coming to my website soon)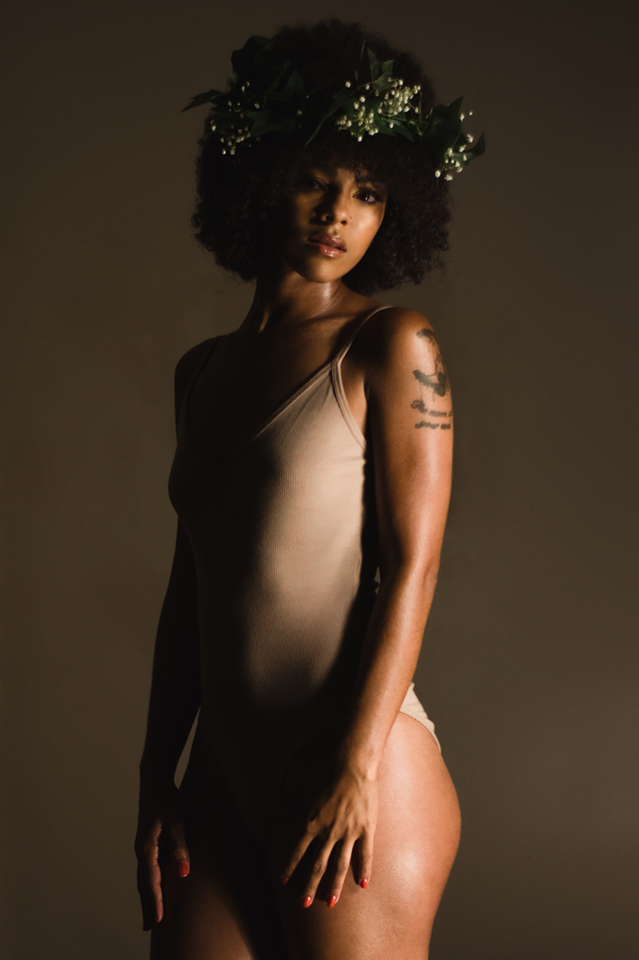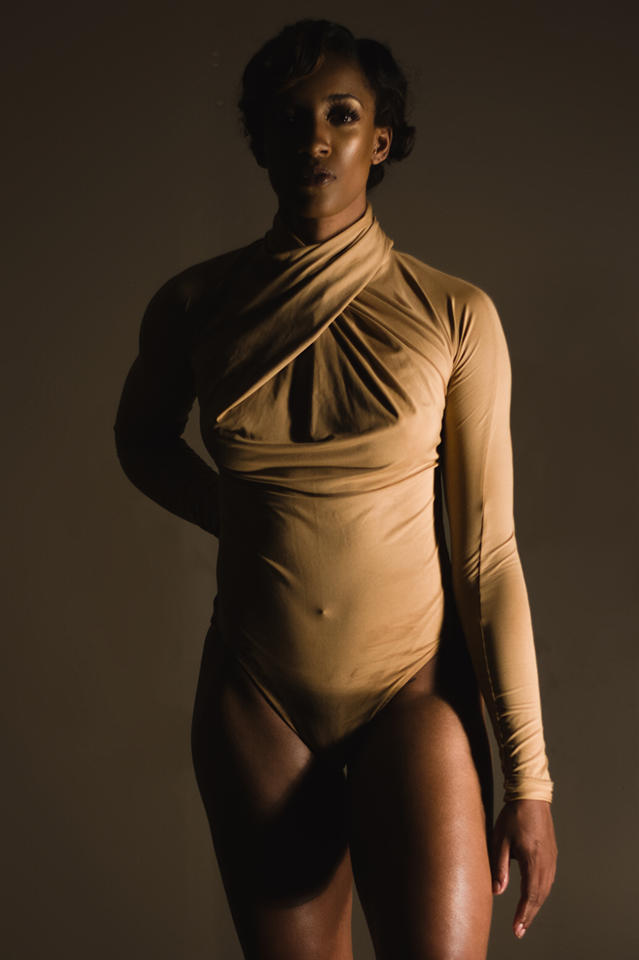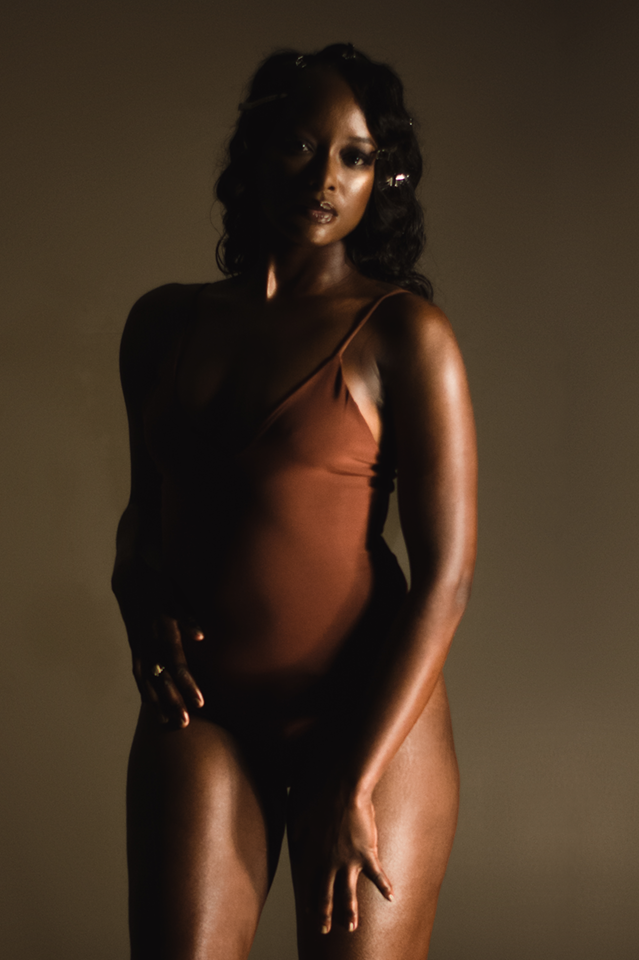 I decided to title this shoot "Cranes," named after Solange's smash hit "Cranes in the Sky," a song which, in her words,
"...was written eight years ago when Solange was fresh out of her relationship with her child's father and battling feelings most women in their 20s face: self-doubt, self-pity, and a sense of emptiness. The singer says she was working on music in Miami and felt the city was something of a "refuge" for "peace" for her. However, at the same time, condos were being built left and right because of a real estate boom. I remember looking up and seeing all of these cranes in the sky. They were so heavy and such an eyesore, and not what I identified with peace and refuge," Solange explains in the interview. Turning lemon into lemonade, Solo says she found inspiration in the cranes, adding, "I remember thinking of it as an analogy for my transition—this idea of building up, up, up that was going on in our country at the time, all of this excessive building, and not really dealing with what was in front of us. "
Read the full Beyonce/Solange interview here.
Cranes, as a photoshoot, for me, as an emotional artist, means using my creativity, and things that inspire me as dealing with my feelings (about myself, and the world around me, especially with 2017 being a hard year politically, emotionally, racially for us all), rather than letting the void of self-doubt drain me of passion. Feel me? Lemons into Lemonade Kind of deep.
All in all, my late night/early morning artist power session came to fruition with the help of some very special people. I hope that you can see the passion behind our work, the creativity in our application and feel the love that this concept has created. I also hope that I have been able to give you insigt into this crazy head of mine, as I wanted to share a little bit of myself with you.
I look forward to many more project like this, because they, in essence, complete me.
Stay shining, GLOW GETTERS.
I promise I will continue to do the same.